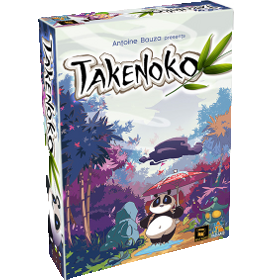 We are now happy and proud to propose
Takenoko
, a game from
Antoine Bauza
, published by
Matagot
and
Studio Bombyx
.
In
Takenoko
, you are building a bamboo garden to feed the Emperor of Japan's panda. You are scoring points by fulfilling your secret objectives: make a specific configuration of bamboo appears on the bamboo garden, feed the panda with a specific set of bamboo sections, or build a specific combination of tiles in the garden.
To do all this work, you only have two actions per turn, and eventually a little help from the weather dice. Obviously, you'll have to guess your opponents objectives and use their moves to fulfill your own objectives.
Takenoko
is a great family game, and in addition it is really beautiful. No need to argue it's the perfect gift for Christmas!