Posts: 29
Joined: 27 March 2020, 18:30
hello

is it possible to extend the average thinking time?
Last edited by
AoC_Cyrille
on 26 June 2023, 18:34, edited 1 time in total.
Posts: 29
Joined: 27 March 2020, 18:30
3 times, I was excluded by my opponent who was losing ... because we were both "out of time".
I took 3 penalties... and lost a lot of points. My reputation took a hit even though I had nothing to do with it.

WE MUST FIND A SOLUTION to prohibit esclusions if the 2 players are "out of time"!
It seems to be common in beta games that the time per turn is completely off. I believe it is to some extent automatically computed from the "average" time players take, so it makes some sense that it's not very well-adjusted at the beginning.

Note, however, that there is a big notice that beta games may affect your reputation, don't play the game if you cannot accept it.
Report it as a bug if Tyler never extends at all during the game. As we often use training life when developing, we can forget to give some extra time between turns
Tyler = timer and life = mode? Or are we playing decrypto?
Posts: 29
Joined: 27 March 2020, 18:30
look at the timer for all player at the end of a game of 6 rounds...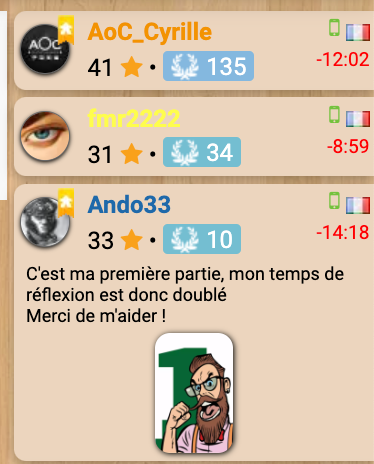 i think there is a problem....because everybody is OUT OF TIME if one decide to exclude other player, he can....all player will received penalities :/
https://boardgamegeek.com/boardgame/356 ... -champagne
Posts: 29
Joined: 27 March 2020, 18:30
My reputation is not affected by Beta Games but by unfair players who use the timer loophole to win points and exclude other player .... that's a bit different!
Posts: 3
Joined: 19 October 2022, 19:58
Hello. I've created the ticket in the bugs. The developper is noticed too. The creator is noticed as well. Nothing else to do, but wait…
Posts: 29
Joined: 27 March 2020, 18:30