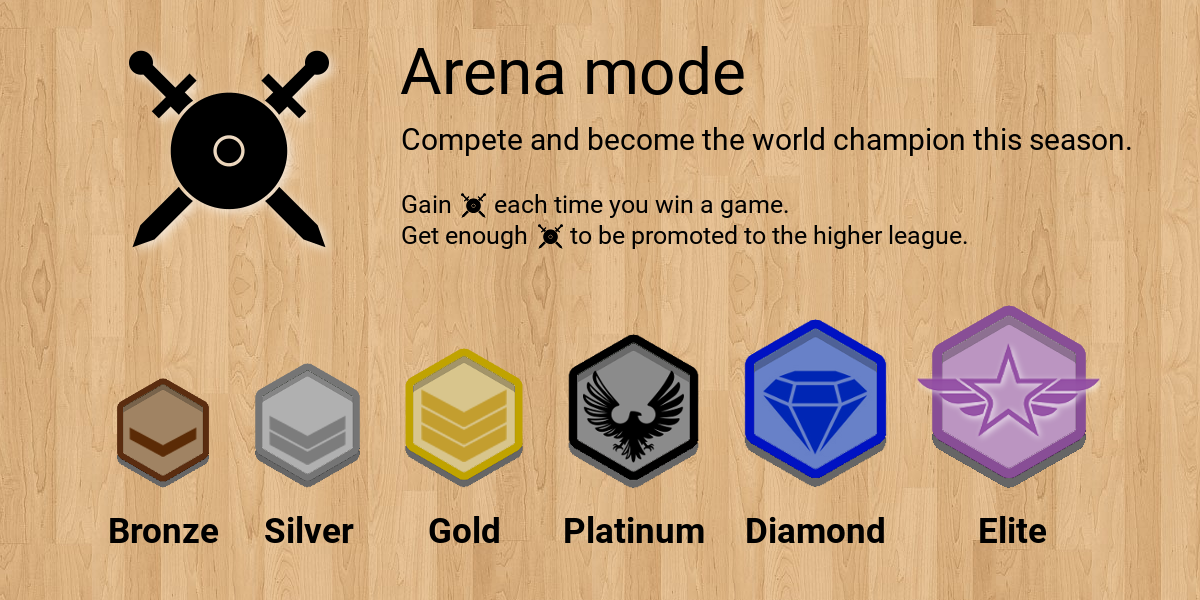 What is Arena Mode?
Arena Mode is a new major competitive mode for all games on Board Game Arena.
Playing Arena Mode, you meet opponents in a competitive spirit, and try to become the new world champion for each game!
How does it work?
Arena mode is
seasons based
.
A season lasts 3 months, so there are
4 Arena seasons each year
(Summer, Fall, Winter and Spring).
At the end of a season, top players for each game will be the new BGA world champion (ex: Race for the Galaxy World Champion - 2019 Winter).
What if I do not care about competitive play?
Arena Mode is 100% optional. You can play on BGA using "Simple mode" and never care about it.
We created Arena Mode because playing "for fun" and playing "competitively" is not really the same thing. We want to regroup players who are playing "for fun" together, and players who are playing "competitively" together.
Before Arena Mode, it was unclear if a game was "competitive" or not because a lot of players care about their ELO ranking. With "Arena Mode" and "Simple mode", we want to create a place where you can focus on competition and rankings, and a place where you can just play games without caring about any "metagame".
What are the rules of Arena Mode?
Some Arena mode rules may change from one Season to another, so everything that we explain here may change in the future if we see that it doesn't work, if we want to try something different for a given season, and so on.
To access Arena Mode for a game, you first need to reach 100 ELO points. It gives you access to the lower Arena league (Bronze league). You start with 1 Arena point ("Bronze - 1").
When playing on Arena mode, you play each game with its competition configuration (see "What is the competition configuration?" question below). You cannot choose your opponents: a matchmaking algorithm is choosing your opponents for you.
When you win a game in Arena mode, you gain Arena points. You gain 3 Arena points when beating an opponent from the same league, 2 points when beating an opponent from league N-1, 1 point for beating an opponent from league N-2, and so on (and the same for higher leagues).
When you lose a game, you lose Arena points. However, you cannot go below 0 points.
When you reach 10 points, you are promoted to the upper league, with 1 point (ex: "Silver - 1"). You get a corresponding trophy, and you can no longer be relegated for this season.
Your goal is of course to reach the highest league before the end of the season
What is the "Elite league"?
The most active players for a given game (especially the best ones) may reach the most prestigious league: the
Elite league
.
In Elite league, the rules are different: each player has an Elite Arena Score (EAS), which works exactly like a standard "ELO rank". Based on this EAS, you get your world rank for this game (ex: 45th) and you can try to become the world champion
This EAS is hidden as long as you are playing in inferior leagues, and is revealed when you enter the Elite league. Basically, if you beat very good players during this season, your EAS will be high, and if you beat weak players your EAS will be low.
What happens at the end of the season?
For each game, the best players will receive the BGA world champion trophies for the season depending on their final rankings.
When a new season starts, everyone is relegated to a lower league (and EAS is also adjusted).
Why did you introduce this Arena mode?
At first, we wanted to make a clear distinction between competitive and non-competitive mode on BGA. This way, you can play "for fun" or "for competition". Before that, we had some mismatched situations like having beginners at game tables with opponents playing with a very competitive spirit.
But the most important reason is that the previous "competitive play" based on ELO ranking was not satisfactory. The best way to be world #1 with the previous system was to get a very important ELO (sometimes by choosing carefully our opponents) and then to stop playing. We wanted to change that, and to build a system where being the world champion is a real challenge, where you cannot avoid the best opponents and cannot avoid to play.
What is the "competition configuration"?
All players who are playing a game with Arena mode for a given season are playing with
exactly the same configuration
. This way, the whole Arena tournament is consistent (a debate + poll has been made
here
to reach this conclusion).
Example: for Kingdomino, during the first season, the Arena configuration will be "2 players, with 7x7 grid and +10/+5 bonuses for Castle on center and full kingdom).
Choosing a specific configuration for each game is sometimes a difficult decision. The good news is that if the community is asking for a different configuration for a game, we can change it from one season to another, or make cycles between some configurations (ie: configuration A during Spring season, then configuration B during Summer season, and so on...).
How about the ELO ranking? Is it going to disappear?
No.
ELO ranking is the best and most accurate way to check the level of your opponent. This is an essential feature for an online boardgaming platform, so we won't remove it.
However, ELO is not a good choice to build BGA leaderboards, so leaderboards will be based on the Arena ladder.
Basically, with the new Arena mode, you should not care too much about your ELO anymore. Think about these examples:
_ National Soccer teams do not care too much about their "FIFA rank", while they do care about winning the World cup.
_ Best Chess players do not care too much about their ELO, while they do care about being FIDE World Champion.
_ ... and so on.
How about turn based games?
Arena mode is both for realtime and turn based games.
The only constraint for turn based games is that a turn based game must start and end during a given Arena season to be taken into account for this Arena season.
When will it be available?
We are introducing little by little all the pieces that are needed for Arena mode.
The new trophy awarding screen was one of these pieces.
The current BGA lobby is not adapted to Arena mode (as Arena mode needs matchmaking), so we need to upgrade the BGA lobby to a brand new version to support Arena mode. This is the biggest step to achieve before introducing Arena mode.
Thus, we still do not know exactly when the Arena mode will be made available, but you'll see more and more hints in the next weeks that it is coming